Today was my last "long" workout, about 40 miles of cycling during which, I'm happy to report, my crank did NOT fall off. During the 40 miles, I did a lot of thinking, mostly planning for the race. I've done a lot of training and have had a chance to try out lots of different things: what to eat, drink, and wear. So here's my plan:
First,
I'm leaving the race wheels at home. They're tubeless, and I'm not as confident about changing those as I am a tube. My road wheels will be fine for my purposes, and I have my trusty Kevlar Hard-Case tires on them, and I can carry several tubes in less space than I can carry several tubeless tires.
Nutrition:
I'll be wearing my Diablo hydration pack, which holds 64 ounces of fluid (Nuun) Not only does the fluid stay colder in this pack, but when it rests against my back it feels cool. I've tested it on every long bike I've done and many of my long runs. Every fifteen minutes, I'll drink some of my Nuun. On the hour, a drink of my Carbo-pro, which will be in a squirt bottle on my bike. On the half hour, solid food, alternating between two fig Newtons and 4-6 pringles. The goal for drinking is 20 ounces every 10 miles, and at least 400 calories per hour. I'll be carrying the Fig Newtons and Pringles in my bento box, with spares in my hydration pack, along with a tube of Noon.
To wear:
After the swim, I'll change into my Terry Clincher tank. I heart this tank - it's got a high neck and a single strap between my shoulder blades in the back, and a nice, loose waist with three large pockets across the back. I'm wearing it with my She-beest sprint shorts, which have a kind of lower waist in front and shorter inseem. They're pretty comfortable. I'm going to wear them with my favorite socks.
The Run:

For the run, I'm going to take along gels, an inhaler, and
ecaps. I'll drink water from the aid stations, a gel every 2-3 miles, and ecaps on the hour. I'm considering carrying a bottle that I'll fill up from time to time so that I don't have to stop at every aid station. I'm still thinking about this. I'm thinking about getting one of these "Nathan" belts. I've run with waist packs before and liked them. Given the choice, I prefer not to carry things in my hands when I run.
For the run, I'm going to change into my Patagonia Active Top and Moving Comfort Peak Fitness Shorts, both being very soft, wicking, and comfortable thing I've ever worn for running. The shorts are great for gals like me who lack
I
nner
T
high
C
learance. The entire inseam is cotton lined.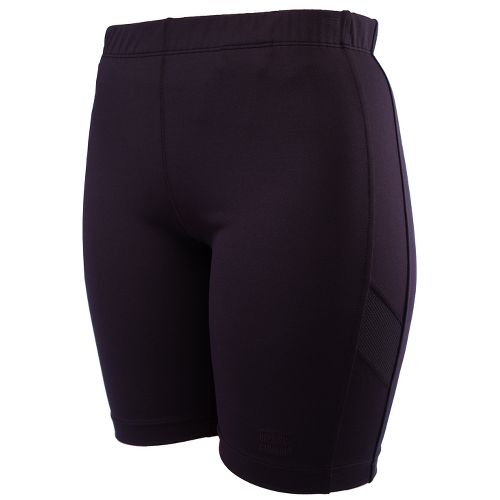 Of course, it g
oes without saying that I'll be wearing the pink uber-sexy
Injinji toe socks...
which are just so insanely sexy it's a shame they have to hide inside my New Balance 767's, which are the best long-run shoes for me, stability with cushioning.

Round out the ensemble with Msr GarMEAN and his heart strap, so I can keep an eye on my heartrate throughout the day and well as my pace. I just hope GarMEAN can last that long on a charge. We'll see. I have a bike computer but it doesn't seem to be properly calibrated.
OKAY. So much the stuff I have control over...NOW for the weather forecast, according to Intellicast,
here's the current forecast for Louisville 7 days from today:
I also used "MAP MY RUN" to do a profile of the run course. There's a bit of a climb at the out-and-back turnaround. You do that part of the course twice. Otherwise, it's mostly flat.
that's enough obsessing for today, I think. Time to start cleaning. Sweet Baboo comes home tonight!
...